Headlines

31/08/2015 - League Individual competitions
Entries are now being accepted for the six Individual knockout tournaments. These should be sent to John Mildenhall lightning@birminghamchess.org.uk giving name, address, email and telephone number. Entry fee is £3.00, payable to the Birmingham & District Chess League.The closing date for entries is 1st October.

23/08/2015 - Rushall return to the BDCL
Rushall Chess Club have entered a team in the league after a few season's absence. They are playing at the Rushall Olympic Football Cub, Dales Lane, Rushall, WS4 1LJ. More information about the club is available on the Rushall page.

20/08/2015 - New Rules & guidance
Wiuth the new time limit options coming into force this season, a number of documents have been prepared by League members :


Although none of these are "official" BDCL offerings, they have been reviewed by a number of members of the Management Committee, and we're hopeful that they'll help Clubs prepare for the start of the new season and get off to a smooth start.

These documents & links have been added to the Rules & Docs Page.

From Tim Lane, Hon. Gen. Sec

14/08/2015 - Bushbury Venue Change
Bushbury Club have moved to :

Springvale Sports & Social Club

Millfields Rd

Bilston

West Midlands WV14 0QR

11/08/2015 - BDCL Rules
The League rukes as amened at the end of last season have been updated and are under Rules & Docs.

10/05/2015 - South Birmingham Website
South Birmingham Chess club has a new website at http://southbirminghamchessclub.com/

09/06/2015 - League AGM and presentation - Ken Langston, Hon. Treasurer stands down.
Presentation of trophies and awards for the various leagues and competitions took place at last night's AGM. The Hon. Treasurer, Mr Ken Langston announced he was standing down after 32 years in the post and was presented with a commemorative bottle of whisky.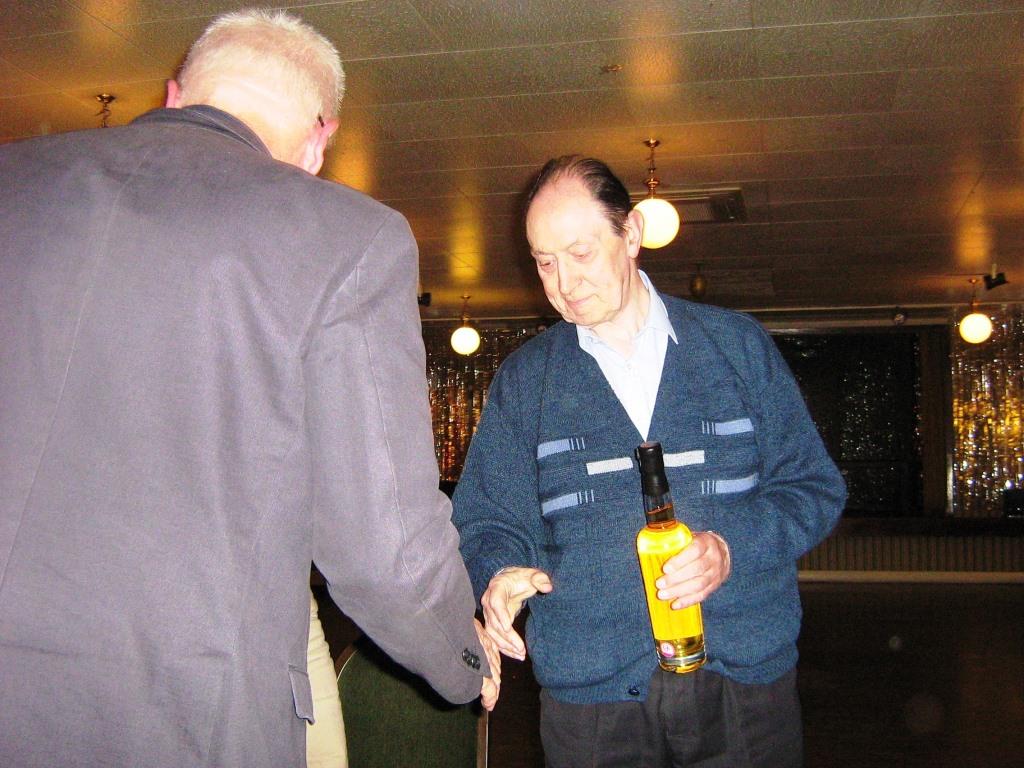 The presentation was made by incoming President, Mr. Malcolm Hunt.

26/05/2015 - British Chess Championships

Nine Grandmasters will be playing in the 2015 British Chess Championships, played at the University of Warwick between 25th July and 8th August.

They include both defending Co-Champions Jonathan Hawkins and David Howell. The full list can be seen here: http://www.britishchesschampionships.co.uk/2015/

Spectators are welcome, but there are a variety of other events for people to play in, including Blitz and Rapidplays, Junior and Senior tournaments, and a weekend congress.

Please see http://www.britishchesschampionships.co.uk/ for more details on events, including entry information.

Alex Holowczak


22/05/2015 - Old 'Chess' magazines
Mr Chris Whittaker in Tipton will shortly be posting a collection of 'Ches' magazines for sale on eBay from Volumes 37 thru 50 if anyone is interested.

27/04/2015 - Morry Wood Awards 2014-15
The 2014-15 B.H.Wood best game prize has been awarded to Laurie Wheatley of Greenlands. The game can be seen on the Morry-Wood page.
No award was made for the W.R.Morry Junior prize.

21/04/2015 - ECF Club Championships


At the 2015 ECF National Club Championships, at Birmingham Airport Holiday Inn, weekend of 11-12th April, Sutton Coldfield won the Open, Intermediate, and Minor sections. West Bromwich were runners-up in the Open; Redditch were runners-up in the Intermediate. From the Birmingham League, Solihull, Warley Quinborne, and Wolverhampton also entered teams. There are extensive reports on the ECF website (under the Competitions heading). These Championships are planned to be run in Birmingham again next year.

Marek Soszynski


9/04/2015 - Cup finals night
Three of the Knockout cup finals were played at Olton's venue on Tuesday 14th April. South Birmingham 2 beat Shirley 2 in the Homer trophy, while Birmingham University 4 beat St. Georges 4 in the Townshend. Greenlands 4 beat Sutton Coldfield 5 in the Barrington. The Division 6 Individual final also took place.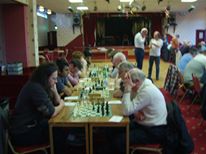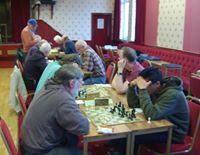 20/03/2015 - Mike Walker Funeral
Mike Walker's funeral took place on Tuesday 17th Match and was attended by many players and officials from the League. Chris Evans has updated Mike's obituary.

13/03/2015 - Mike Walker - Updated

It is with great sadness that I have to report the death of Mike Walker

of Mutual Circle at the age of 76. Chris Evans has written an obituary, which can be found here...


There will be a humanist funeral service at 2.30 p.m. on Tuesday, 17th March, at Robin Hood Crematorium (Tel 0121 709 7009) , Streetsbrook Road, Shirley, B90 3NL. Afterwards, those who wish to attend are invited by Mike's wife and family to meet at the Billesley pub, Brook Lane, Kings Heath, B13 0AB.

If anyone wishes to commemorate Mike's life and death then his family would welcome donations to 'The Research Fund' at Exeter University. It will be possible to make donations at Mike's funeral ceremony itself, but donations can also be made on-line at http://www.exeter.ac.uk/alumnisupporters/donateonline/ or by phone (01392 725012) or by post to The Development Office, Northcote House, University of Exeter, FREEPOST (EX 472), Exeter, EX4 ZH. Cheques should be made payable to "The University of Exeter.


11/03/2015 - BDCL Lightning Tournament 2015
The tournament took place at Olton's venue, Tyseley working Mens Club last night. 10 teams took part in 2 sections based on average grade. Section A was tight after round 4, with South Birmingham A half a point ahead of Olton A. Olton A managed a 4-0 win in the last round, but Richard Reynolds playing for Olton B held on to a point against South Birmingham A. Olton A won with 11½ points from South Birmingham A on 11.

Section B saw a runaway win for South Birmingham C on 15½ points. Sutton Coldfield B and Mutual Circle both finished with 7½ points but Sutton were awarded second plave on tie-break.

The overall individual award went to Jonathon Swindells of South Birmingham, who scored 4/4 on top board in Section A.

Thanks go to John Mildenhall for running the tournament and South Birmingham for providing extra equipment.

The full result and photographs can be found here.....

05/03/2015 - BDCL Lightning Tournament 2015
A reminder that the annual Lightning team tournament will be held at Olton C.C's venue (Tyseley WMC) on Tuesday 10th March, starting at 7:30pm. Teams of 4 will compete in sections at the rate of 10 seconds per move. Entries should go to the Lightning Committee Chairman, John Mildenhall.

02/03/2015 - Birmingham Summer League
The Summer League will be riun again this year. Any clubs wishing to take part can obtain the entry form from here...

24/02/2015 - Morry Wood competitions

Nominations for the 2014-15 Ritson Morry award for the outstanding Junior player, and score entries for the Baruch Wood best game must be submitted by 31st March.

Send e-mail submissions to morrywood@birminghamchess.org.uk.

Alternatively, postal submissions go to Mr. Laurie Wheatley (address as in handbook)

The entry form for the Ritson Morry award can be accessed at http://www.birminghamchess.org.uk/Youth_entry_form.htm or by following the Morry-Wood link on the left-hand side of the BDCL web site.Games submitted for the Baruch H Wood award must show the date when played, the players names, the competition (eg BDCL div 4), and the venue

Phil Maddocks on behalf of the Subcommittee Chairman

16/02/2015 - Tom Farley
I am sad to report the death of Tom Farley, the founder of Birmingham Telephone Area Chess Club and also a member of Kynoch Chess Club.Please see his obituary.

Keith

Ingram

11/02/2015 - Mike Walker
Former Hon. Gen. Sec. and Mutual Circle stalwart Mike Walker is seriously ill with pneumonia and is currently in the critical care unit in the Queen Elizabeth hospital. Our thoughts are with him and his family, and the League wishes him a speedy recovery.
Tim Lane
Hon Gen Sec.

21/01/2015 - Kynoch website
Gren Morgan informs us that Kynoch Chess Club has a new website at www.kynochchessclub.co.uk

20/01/2015 - Colin Hammersley (updated 24/01/2015)

Colin Hammersley passed away on the 1st January 2015 aged 81. I first met him in 1959 when I came to Birmingham to live. He was playing top board for the City club at that time and did so until 1966 when the club had by then merged with Erdington folded. I do not know much about Colin's chess career before 1959 but League Records show that he won the Division 3 individual in 1953/54, was runner up in Division 1 1956/57 and League Division 1 Individual Champion in 1963/64. He played for Kynoch 1967/68 season and helped that club to win the Championship against a strong challenge from Birmingham and Sutton Coldfield. Up until this time when someone mentioned the word 'Batchelor' to me I conjured up an image of Colin. At the time apart from chess he played competitive bridge and snooker and also participated with a certain group of chess players with a penchant for poker. His first marriage came as a total shock! He enjoyed a happy married life with his first wife until her untimely death in the late 1990s. Some League members will remember Colin playing for Kynoch in the mid 1990s. He then married Margaret who had just lost her 2nd husband and moved to MarketHarborough. Colin was a man of forthright views a loyal friend and good company. His funeral is at 12.30 p.m. at St. Dioysius Church, Market Harborough on the 28th January.

K

eith

Ingram

Chris Evans of Mutual Circle has added the following :

Colin was a member of Mutual Circle for several years between 1969 and 1977. More recently he donated to us his collection of Mutual Circle Newsletters from the 1940s and 1950s. (These can be viewed at http://www.mutualchess.co.uk/ ). In consideration of this generous gift Colin was made a life-time 'honorary member' of our club in 2011. He maintained a keen interest in Mutual Circle and its players, continuing to follow our affairs through our weekly news bulletins until shortly before his death.


13/12/2014 - Robin Farmery
Robin Farmery, a Birmingham League stalwart for well over 50 years, has died from cancer after a six month illness.





Robin played his first of many games for Kynoch in the 1950's as a teenager. He subsequently joined Lichfield in 1992. He later became treasurer for 10 years and his proud boast was that during that time he never had to propose an increase in subscriptions.





He was captain of the Lichfield second division team which won both the league and the Terrell trophy two years ago. Last season he led

Lichfield to the Division 3 title, sadly missing the last game because his illness was diagnosed.



Rob

in was very good at quickplay and was last season's winner of the club's annual quickplay tournament.





David Short - Lichfield Chess Club



14/10/2014 - Birmingham Rapidplay 2014

116 players participated in the 19th Birmingham League Rapidplay. The following prizes were won. Click on the section name for full results in each section.

1st: Ameet Ghasi 6/6 £200

2nd=: Ryszard Maciol (West Bromwich)

Don Mason (Shirley & Wythall)

Pablo Padilla Cabero (Sutton Coldfield)

Golam Ali (Sutton Coldfield) 4/6 £38 each

Grading: Faraz Malik (South Birmingham) 3.5/6 £25 + magazine

1st: Alex Rossiter (Cabot) 5.5/6 £120

2nd: Michael Ashworth (Wootton Hall) 4.5/6 £60

3rd=: Paulina Kaminska

Aloysius Lip (South Birmingham)

James Friar (Kidderminster)

Phil Bull (Wolverhampton) 4/6 £30 each

Grading: Richard Szwajkun (Newport)

Ben Pourmozafari Magazine

1st: Richard Weston (Witney) 6/6 £120

2nd=: Duncan Macarthur (Keynsham)

Adrian Walker (Stroud)

Bob Wallace (Melton Mowbray) 4.5/6 £30 each

Grading: Jixin Yang

Owen Robinson Magazine

1st: David Price (Crewe) 5.5/6 £120

2nd=: Stephen Crockett (Redditch)

Paul Heeney (South Birmingham) 5/6 £45 each

Grading: Les Hall (Crewe) 3.5/6 Magazine

Alex Holowczak


30/07/2014 - Management meeting and Rule change Proposals
The next Management Committee Meeting will take place on Thursday 21st August at Warley Quinborne (Hill & Cakemore Club) at 7:30pm. There are a number of Rule change proposals to be discussed, including quickplay finishes and changes to reflect the new FIDE laws. These proposals are detailed here....

Tim Lane, Hon. Gen. Secretary

06/07/2014 - New FIDE laws
A new set of FIDE Laws came into being from 1st July. These can be seen here...
30/06/2014 - West Bromwich Directions
Please note the directions to then club have changed, but the venue is unchanged.

25/06/2014 - Warwickshire Chess Association
Warwickshire Chess Association are seeking volunteers to captain teams in the Under 140 and Under 120 County Championship in 2014/15. To express an interest, please contact Alex Holowczak at alexholowczak@gmail.com before 31st July. If there are no volunteers by the passing of the deadline, then these teams will not run next season.
Alex Holowczak
WCA Secretary


12/06/2014 - Fixtures Meeting
The fixtures meeting will be held at Olton's venue, Tyseley Working Mens Club, on Tuesday 17th June. Fixture sheets for the 2014-15 season have been distributed to clubs. Please contact Tim Lane at once if you have any difficulties with either the sheets themselves or with representation at the Fixtures Meeting.

Tim Lane, Hon. General Secretary

10/06/2014 - Honours 2014
The Winners for 2014 are now on the Honours page, along with photos of the key presentations.

05/06/2014 - League AGM & Trophy dates
The AGM is on Monday 9th June at Moseley All Services Club, where all Trophies will be presented,
The Dates of next seasons trophy rounds are :
Round 1 - Sept 29 - Oct 3
Round 2 - Nov 17 - Nov 21
Round 3 - Jan 12 - Jan 16
Round 4 - Feb 23 - Feb 27
Finals - Apr 13 - Apr 17
Easter Sunday Apr 5. The 1st Round draw is on the Trophies Page,
The composition of next seasons divisions can be found on the Tables Page.

Alan Woolaston, Hon Records Secretary

27/05/2014 - Archives 2014

Archive pages for the 2013-14 season have been added to the site.

21/05/2014 - West Bromwich Chess Club notice
Members of Birmingham League Clubs who do not participate in the Wolverhampton League,
are welcome to join our Wolverhampton League Division One squad for the coming season

Club night - Monday

Friendly club, excellent venue with bar, easy access from M5 junction 1

Contact David Davies 07751 964788

15/05/2014 - Bushbury Change of Venue

Bushbury Chess Club has a new venue.

From 14th May the club will meet at:

The Polish Catholic Community Community Centre

Stafford Road

Wolverhampton

Full details are on the club website www.bushburychess.org

Richard Parry

07/05/2014 - Mike Biddle's email

Please note that Mike's email address is now mike.biddle295@gmail.com

07/05/2014 - Division 2 promotion play-off

Four teams met at Mutual Circle's Venue to compete for second place in Division 2. An unusual set of circumstances meant that a four-way Jamboree was required to decide on the second promotion place. Teams from South Birmingham, Boldmere St. Michaels, Olton and Wolverhampton played over 12 boards.Two games were adjourned, so the result is yet to be decided.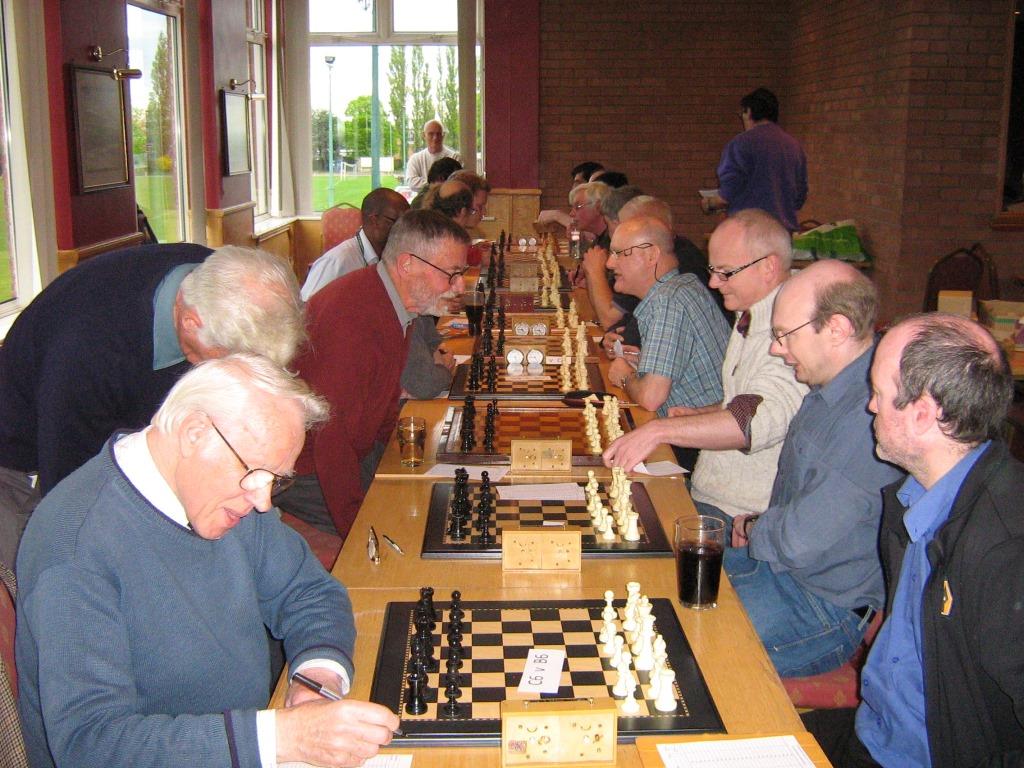 03/05/2014 - Morry-Wood awards 2013-14
The B.H.Wood prize for best game has been awarded to Simon Smith of Warley Quinborne for the second year running. His game was judged the best of those submitted, after consideration by a panel of League players. To see the game and previous winning entries, go to the Morry-Wood page.
No award has been made this year in the W.R.Morry Junior competition.
17/04/2014 - Summer League
All fixtures for the Summer League now appear on the website. Please click "Summer League" on the left sidebar for more information. The rules are here..
Alex Holowczak
14/04/2014 - Staffordshire Congress results
The Staffordshire Chess Congress was held over the weekend 12/13th April at Bloxwich Leisure Centre, Walsall.
The Premier resulted in a tie on 4/5 between three players: IM Geoffrey Lawton of Birmingham, making a return to chess after an absence of over a decade, and two Staffordshire Players Malcolm Armstrong of Stafford and Tomasz Sygnowski of Wolverhampton who also tied for the Staffordshire Closed Championship. Four games are available here
.
PRIZE WINNERS
Premier
1st -3rd IM Geoffrey Lawton (Checkmate) £150, Malcolm Armstrong (Stafford) (Advertiser Trophy) £165 and Tomasz Sygnowski (Wolverhampton) (Advertiser Trophy) £165.
Grading U200: Mark Whitehead (Rochdale), Andrew Paterson (Solihull) and Trevor Brotherton (Church Stretton) share £50.
Senior: Mike Surtees (Bolton) Richard Bryant (Oswestry) and Jan Havenaar (Netherlands) share £30.
Junior: Owen Bennett (Caerleon) £25.
Major
1st Jonathan Hunt (Wolverhampton) £120.
2nd Shabir Okhai (Syston) £80.
3rd Michael Connor(Great Lever) Martyn Harris (Newcastle-under-Lyme) and Steve Rooney (Church Stretton) share £50.
Senior and Grading U140: Robert Clegg (Huddersfield) £60.
Junior: Jacob Boswell (Cheddleton & Leek) £25.
Minor
1st – 3rd Bill Egan (Scunthorpe) Francis Rooney (Church Stretton) and Marco Ho (Lichfield) share £250.
Grading U 100: Marten Kats (Derby) £30.
Senior: Christopher Fraser (West Bridgford) Colin Gardiner (Newmarket) and Gordon Somerville share £30.
Junior: Adam Bennett (West Nottingham) and Andrew Fenn (Bloxwich) share £20.
David Anderton
29/03/2014 - League Management meeting.
The next League management meeting will take place at 7:30pm on Thursday 15th May at Warley Quinborne's venue. The Agenda and previous meeting's minutes have been circulated to club Secretaries.
Tim Lane, Hon. Gen. Secretary
29/03/2014 - Birmingham Summer League
The Birmingham Summer League will be run again this year. There will be three divisions. Entries should go to Alex Holowczak and should reach him by Monday 14 April; entry fees should go to Ken Langston. All participants have to be bronze (or better) members of the ECF.
28/03/2014 - Rules committee decision
The Rules Committee met on Tuesday 25 March at South Birmingham to consider the dispute between S.S.Goray (Mutual Circle) and F.Dickson (South B'ham) in the Individual Tournament. As the elected Chairman of the Committee had an interest in the outcome of the dispute D.Thomas took the chair for this meeting.

After due consideration the Committee found unanimously that Mr Mildenhall (as Chairman of the Tournament Committee) acted within his powers in accepting Mr Dickson's claim for a win by default.

Dave Thomas
Acting Chairman of Rules Committee
25/03/2014 - What are you doing this weekend ?
Mind Sports International give you the opportunity for you to play Chess, Scrabble and Magic all week-end long and later in the year. A list of events starting Saturday 29th March is given here in PDF format.
17/03/2014 - Keith Arkell - European Seniors Tournament
Stourbridge-registered Keith Arkell won the European Seniors Championship (50+) in Porto, Portugal today. He drew his last round to finish half a point ahead of Evgenij Kalekin of Russia.
Results can be seen here: http://www.chess-results.com/tnr123108.aspx?lan=1&art=2&rd=9&turdet=YES&flag=30&wi=984
Alex Holowczak
15/03/2014 - Team Lightning Tournament
The Annual Team lightning Tournament took place at Olton's venue on Tuesday 11th March. The results appear here.....
03/03/2014 - Morry-Wood competitions
Nominations for the 2013-14 Ritson Morry award for the outstanding Junior player, and score entries for the Baruch Wood best game must be submitted by 31st March.
E-mail submissions go to morrywood@birminghamchess.org.uk
Alternatively, postal submissions go to Mr Laurie Wheatley (address as in handbook)
The entry form for the Morry award can be found on the link "Morry-Wood" and then clicking "Youth Entry Form"
Games submitted for the B H Wood award must show the date when played, the players names, the competition (eg BDCL div 4), and the venue.
Phil Maddocks

23/02/2014 - University Championships
Birmingham University finished 2nd in the Plate section at this year's University Championship: http://www.buca.org.uk/file_download/71/tab14p.htm
Their 5 match results were:
3-1 win v Imperial 3
3.5-0.5 win v Nottingham 2
2-2 draw v Imperial 2
4-0 win v York 2
2-2 draw v LSE 2
Robert Lydiard of Birmingham finished in 2nd place in the Board 1 board prize for the Plate section.
Full results for the event for those who are interested can be found here: http://www.buca.org.uk/news/2014-buca-team-championship-results
Alex Holowczak

20/01/2014 - Birmingham University contact details

Please note the contact details for Birmingham University.

Peter Steele, 107 Poole Crescent, Harborne. B17 0PE. Mob.: 07706033833

Darpit Shah, 185 Gristhorpe Road, Birmingham. B29 7SP. Mob.: 07536868158

email :

uobchess@gmail.com



08/01/2014 - Staffordshire congress 2014
Details of the Staffordshire congess on 12th/13th April are on the entry form which appears here...

02/01/2014 - Warwickshire Chess Championsips
1st and 2nd March 2014 - Warwickshire Chess Championships
Entries are now open for the Warwickshire Chess Championships which take place on Saturday 1st and Sunday 2nd March 2014 at The Trident Centre, Poseidon Way, Warwick CV34 6SW.
There are four sections and five rounds.
This year the Junior Championships are being held simultaneously. The guaranteed prize fund has been increased to £1600.
Excellent catering will be available throughout the week-end in the refectory near the playing hall. Free parking on site.
Further details and entry procedures can be found by clicking on the following link to the Warwickshire Chess Association website :-
http://www.warwickshirechess.org/Default.aspx

01/01/2014 - Alf Schroeder
It is with great regret that I report that Alf Schoeder of Bushbury Chess Club passed away early yesterday morning. He was 98 years old and still held a grade of 117. Alf had had a fall at the nursing home where he was staying and had been taken to New Cross Hospital as a precaution. Alf was a long-standing player in the League and will be sadly missed. An obituary from Marek Schroeder and funeral details appear here..

From Simon Jones

12/11/2013 - Peter Oliver email address
Peter Oliver (Tamwoth & District) will change email address on Thursday 14th November. Please update your contact details, replacing 'aol' with 'btinternet'. The full email address appears on the Tamworth page under BDCL Clubs.

08/11/2013
S
tourbridge Parking
The new Tesco supermarket next to the Stourbridge CC venue is now complete. There is a new underground car park available. Currently, visitors can park for free for a maximum of three hours. Please note this may change.
The Tesco car park entrance is 10 yards from the entrance to our club and is accessed via Bell Street. Unfortunately, the car park entrance is not a pedestrian entrance. If you choose to park on the Tesco car park you will need to use the escalators/lifts to reach the top floor for the main Tesco entrance. You then need to walk round the atrium to the exit for Market Street. On Market Street turn right until you reach the crossroads and then turn right again onto Bell Street. Our venue is then on your right.
Given the walk from the Tesco car park, visitors may find the Ryemarket multi-storey is actually a little closer for pedestrians and doesn't have the three hour limit, though it is pay-and-display. This multi-storey can be accessed from the Stourbridge ring-road via Victoria Street between the Police Station and Aldi.
Roadside parking remains available in High Street, Market Street and Lower High Street, each of which are also accessed from the ring-road and are each one-way.
If anyone requires any further information, please contact Dave Scriven.

24/10/2013 - Warley Quinborne 5
It is with deep regret that Warley Quinborne will be withdrawing their Division 5 side from the League. The club has had a difficult period with as many as 5 players in hospital at one time and 3 of these are from BDCL Division 5.

With a shortage of players able to play currently, drive and transport others, it is extremely unlikely that we would be able to fulfil the fixture programme for this team.

John Fahy

15/10/2013 - Shrophire Congress
Entries are now open for the Shropshire Chess Congress which takes place on Sat 4 and Sun 5 January 2014 at The Wrekin Housing Trust, Colliers Way, Old Park, Telford TF3 4AW.
We had a record entry last year with three fiercely-contested sections and some great chess. We look forward to extending a warm Shropshire welcome to players from near and far. Some of the enhancements planned for this year's congress include live transmission of some of the top boards and increased prize money.
And you won't go hungry as we will once again have some great food from Jacob and his team to keep you nourished over the weekend.
Further details are attached and you can enter online through the following link to the Shropshire chess website -
http://shropshirechess.org/Tournaments/Shropshire_Congress/congress.html
We are always very grateful to receive donations and this year as we are planning to extend the live board coverage we will put all donations towards the purchase of additional DGT sensory sets.
If you prefer to enter by posting a paper form, we are still happy to receive cheques! Please feel free to copy the entry form and pass to your club colleagues.


Steve Rooney
Congress Organiser

14/10/2013 - Birmingham Rapidplay
96 players entered the 18th Birmingham & District Chess League Rapidplay, held on 13th October, 2013. Amongst them were 1 GM and 2 IMs.
The results were as follows:
Open Section Full result
1 GM Hebden, Mark L 4NCL Guildford 5.5 ENG M 2495 2624 +0.70 1 1 ½ 1 1 1 £200
2 IM Ghasi, Ameet K Birmingham 5.0 ENG M 2439 2488 +0.53 1 1 ½ 1 ½ 1 £100
3 IM Cobb, James E Clifton 4.5 WLS M 2418 2411 +0.20 1 1 1 0 ½ 1 £50
4 Timmins, Chris P Bristol 4.0 ENG M 1920 2179 +2.07 0 1 1 1 0 1 £25 (Grading)
Major Section Full result
1 Friar, Joseph D Kidderminster 5.0 ENG M 1872 2102 +1.65 1 1 1 ½ 1 ½ £120
2 Ai, Farshad Phoenix 4.5 ENG M 1951 2010 +0.43 1 1 0 1 ½ 1 £60
3 Kalyana, Ashwin Halesowen 3.5 ENG M 1856 1884 +0.25 1 0 1 ½ ½ ½ £30
Intermediate Section Full result
1= Cole, James Magdalen Colleg 5.0 ENG M 1720 1885 +1.14 0 1 1 1 1 1 £70
1= Talbot, Nathan L Wigan Knights 5.0 ENG M 1699 1845 +1.00 1 1 1 0 1 1 £70
1= Varney, Daniel Cumnor 5.0 ENG M 1696 1917 +1.59 1 1 1 1 1 0 £70
Minor Section Full result
1= Hall, Ray Birmingham 5.5 ENG M 1424 1765 +2.02 1 1 1 ½ 1 1 £90
1= Calderbank, Stuart Stratford 5.5 ENG M 1352 1714 +1.65 1 1 1 ½ 1 1 £90
3= Jones, Simon A Bushbury 4.0 ENG M 1400 1515 +0.62 1 1 0 1 0 1 £10
3= Taylor, A (Tony) Halesowen 4.0 ENG M 1232 1414 +0.94 0 1 1 1 0 1 £10
3= Vernon, Colin G Birmingham Univ 4.0 ENG M 1160 * 1300 1300 0 1 1 1 1 0 £10
PGN files for the top 8 boards in each round can be downloaded here
Some of the games were displayed live at http://www.chess.dw4n.com/birRapid/tfd.htm
Alex Holowczak

02/10/2013 - Sutton Coldfield change of venue

Starting Monday 7th October 2013, Sutton Coldfield Chess Club will be meeting in the Lounge of Minworth Social Club, Robinsons Way (off Water Orton Lane), Sutton Coldfield B76 9BB. Same night and start time (Mondays 7.30pm) so fixtures are unaffected. Patrons requested not to bring their own food or drink.
Marek Soszynski

01/09/2013 - League Individuals 2013-14
Entries are invited for the League individual competitions for the coming season. Any BDCL player wishing to take part in these should contact the Individual Tournament controller, John Mildenhall. Please provide name, address, telephone number and email address where available, as well as the division you wish to participate in. There is an entry fee of £3.00. Cheques should be payable to Birmingham & District Chess League. Closing Date 1st October 2013.

John Mildenhall
jmildenhall@sky.com
68 Stornaway Road, Castle Vale, B35 6NS

23/08/2013 - Summer League results
The winners of each division are:
Division 1 - Shirley & Wythall
Division 2 - Sutton Coldfield
Division 3 - Westminster
Alex Holowczak

20/08/2013 - Leamington Rapidplay 2013
The 27th Leamington Rapidplay congress will take place on Sunday 15th September. This year's venue is the Trident Centre, Warwick, CV34 6SW. The open section will be FIDE rated. For more details and entry information, the website is here...

13/08/2013 - Sutton Coldfield Equipment Sale

Sutton Coldfield Chess Club is selling off all its old wooden boards and all its sets of wooden or plastic pieces - including the very best ones (but no clocks). This is to make way for new sets.
Each board or each set of pieces is being sold for £5 or less, depending on condition. Grab yourself a bargain while stocks last! Simply come along to the Club (33 Sutton New Road, B23 6TD) on the evening of
19-August-2013 to view and buy.
Marek Soszynski

25/07/2013 - Birmingham Rapidplay Congress 2013
This will be held at Quinborne Community Centre on Sunday 13th October. Four FIDE-Rated sections starting at 10am. Online entry is now available, or you can download a printable entry form from the Rapidplay page.

25/07/2013 - e2e4 congress Coventry
The e2e4 Coventry Congress will be held at the Holiday Inn, Coventry between 23-26 August 2013.
Full details are available online at http://www.e2e4.org.uk/coventry/Aug2013/index.htm
Sean Hewitt
05/07/2013 - Wolverhampton parking
Until further notice : The spacious car park opposite Wolverhampton Chess Club has been closed by the council. Visitors and clubs can park outside the venue and on ground opposite club. This area is sloped, rough ground.
Paul Walters
Wolverhampton Chess Club

12/06/2013 - Clubs pages updated
The list of clubs and some Secretary details have been updated. Would Secreraries please review the information for thier club and provide an update if required.

11/06/2013 - Photos from the AGM presentation
Photos of the winning teams receiving their trophies from League President, Dave Brelsforth, are now on the Honours page.

11/06/2013 - Second-hand books
Birmingham University report that a large collection of second-hand chess books is available at the Oxfam shop in Harborne High Street. There is everything from opening books to speciality first editions.

7/06/2013 - Trophy dates 2013 season

The Trophy Dates for BDCL Season 2013-14 are as follows

Round One - Sept 30th - Oct 4th
Round Two - Nov 18th - Nov 22nd
Round Three - Jan 20th - Jan 24th
Round Four - Feb 24th - Feb 28th
Finals - Apr 7th - Apr 11th

For Reference Easter Sunday is April 20th

Full Draw can be found on the bottom of the Trophies Page

The composition of next season's Divisions is on the Tables Page

Alan Woolaston

19/05/2013 - League AGM
The 106th League AGM takes place on Monday 10th June at South Birmingham's venue, starting at 7:30pm.There will be a short Management meeting after the AGM. The agenda can be found here...

15/05/2013 - Staffordshire congress results

Premier
1st Mark Hebden (Leicester) 4.5 £250
2nd Ali Jaunooby (Denton) 4 £120
3rd Tomasz Sygnowski (Wolverhampton) ( Advertiser Trophy) 3.5 £100
Senior/ Grading Mike Surtees (Bolton) 3 £35 & Richard Bryant (Bolton) 3 £35
Junior Henrik Stepanyan 3 £20
Major
1st & 2nd = Robert Clegg (Huddersfield) £100 & Ian Emery (Warley Quinborne) 4 £100
Senior Andrew Walker (Stroud) 3.5 £20
Junior Rhys Bennett (Newport South Wales) 3.5 £20
U 140 Grading Andrew Collins (Leamington) 3.5 £20
3rd = Ben Graff (Leamington) 3.5 £16.66 & Pavel Ondrejka (Rugby) 3.5 £16.67 & David Pritchard (Walsall Kipping) 3.5 £16.67
Minor
1st Adam Bennett (West Nottingham) 4.5 £120
2nd = Stephen Crockett (Redditch) 4 £43.32 & Gabor Csepregi (Shirley & Wythall) 4 £43.34 & Peter Windows (Meir) 4 £43.34
5th = Jacob Cartlidge (Cheddleton & Leek) 3.5 £25 & John Pakenham (Warley & Quinborne) 3.5 £25
Senior Peter Griffin 3 £20 & David Hull (Southport) 3 £20
Junior Sam Beardmore (Cheddleton & Leek) 3 £10 & Benjamin Headlong (Moonrakers) 3 £10
U100 Grading James Waddington (Bolton) 1.5 £20
Selected games are here in pgn forma
t.


David Anderton

02/05/2013
- Chess Musical in Pershore
A local production of Chess: The Musical, in Worcestershire, will feature the original strategies used by Bobby Fisher and Anatoly Karpov, as well as other Grandmasters.

Here's the link: http://www.number8.org/events/chess/

Regards,

James Megarry

Asistant Producer

29/04/2013 - Morry-Wood awards
The W.R.Morry Junior award this season goes to Ashwin Kalyana of Halesowen.

The B.H.Wood award for best game was won by Simon Smith of Warley Quinborne. The game can be seen on the Morry-Wood page.

Phil Maddocks on behalf of Laurie Wheatley (Morry-Wood Chairman)

25/04/2013 - John Holmberg Funeral

John Holmberg's funeral will be held at Redditch crematorium on Tuesday 7th May at 11 am, then at the Rocklands Social Club, where Headless Cross hold their chess club. The family have asked approx numbers attending. Would anyone intending to go on to the Rocklands please e-mail Mark Hore at clairehore@blueyonder.co.uk

Michelle Clack

22/04/2013 - Rules Committee meeting
The rules committee met recently to settle 2 disputes. The decisions are published here.

Mike Biddle, Rules Committee Chairman

16/04/2013 - British Blitz Championship
The British Blitz Championship will take place on Saturday, 20th April, 2013, at Quinborne Community Centre, Quinton. 11 games of chess are played between 1:30pm and about 6:30pm. There is a prize fund of over £750. You can enter the event here: http://www.britishblitzchess.co.uk

Alex Holowczak

15/04/2013 - John Holmberg

It is with regret that we hear that long-standing Redditch member John Holmberg passed away last Friday. John will be sadly missed. His energy and enthusiasm helped to drive Redditch forward and he was instrumental in starting a second Birmingham League Team. He captained this team for many years and Redditch became a more vibrant club as a result.

Mi

chele Clack
10/04/2013 - Obituary & Funeral Details - Robert Jones 1945-2013

Robert Jones, a member of Walsall Kipping Chess Club for over 40 years, died peacefully on 3rd April, after suffering from a protracted and debilitating illness. He was a longstanding player in both the Wolverhampton and Birmingham Leagues; and for more than 10 years he captained the club's WDCL Division 1 side, successfully leading them to the Championship in the 1994-5 season. He was a strong club player, and supported many of the local tournaments, as well as being a County (Staffs) player.

In a simultaneous display given by GM Alexei Suetin in 1992 as part of the club's Jubilee celebrations, Rob not only provided him with the stiffest opposition, but was able to engage him in a discussion of the game in Russian afterwards!

Rob was a cheerful and valued member of the club, and never happier than when talking up his favourite opening-the Morra Gambit! He will be sorely missed. The funeral will be held at 12 noon, Wednesday 17th April,

Streetly Crematorium, Little Hardwick Rd., Aldridge, Walsall WS9 0SG

Mike Groombridge

10/04/2013 - Chess in Schools & Communities
Chess in Schools and Communities (CSC) are looking for volunteers to teach chess and/ or setup chess clubs in schools across the West Midlands. A copy of their advertisement can be found here.

Andrew Moore

27/03/2013 - Divisional winners
Shirley & Wythall are confirmed as League Champions. Congratulations to them.Olton A are winners of Division 4, Solihull are unassailable in Division 5 and South Birmingham are top of Division 6.

19/03/2013 - Summer League
The 2nd Birmingham Summer League will be run during the close season.

Entries should go to Alex Holowczak and should reach him by Monday 15 April; entry fees should go to Ken Langston. The entry fee is a mere £5 per and is used solely to cover the costs of the results service,

Download the entry form here

13/03/2013 - Team Lightning Tournament

The League Lightning tournament took place at Olton's venue on Tuesday 12th March. There were 14 teams in two sections from a variety of League clubs. South Birmingham took most of the honours as their A team won section A and the B team were second. Section B was won by South Birmingham D, with Olton B second.

Birmingham University player Minh Do was awarded the individual prize, one of two players scoring 6/6.

The full result is here....